The best accessory a girl could have! George Clooney with Stacey Keibler.
Last night's Golden Globes were seriously the most boring award show, fashion-wise, for a while. It just seemed like something was missing, namely excitement. Many stars looked like the same repeat of themselves from another award show. People are too scared now of being unique and it really shows.
No one really stood out and with all the stylists, designers and stars. Why?
One dress I really thought was pretty was Charlize Theron, who was in Dior. Lovely color and hairband, but would the girl crack a smile please? Anytime, the camera panned to her she did not look like she was having fun. Pink seemed to be the winning color last night as all the pretty dresses were some shade of blush.
Smiley Charlize in Dior.
Kate Beckinsale beautiful in Roberto Cavalli.
Jessica Alba in a very similar Gucci gown.
Viola Davis very pretty.
Reese Witherspoon, looked a bit bombshell, which is a departure for her. I liked the look, but the top of her dress did not fit her well. Where are the stylists these gals pay so much for? Isn't that their job?
Reese in Zac Posen.
Tilda Swindon, a complete fashion iconoclast, managed to look glamorous and radical at the same time. I admire how she always manages to be beautiful, but fierce. The bare face helps and her David Bowie hair. This woman is no Barbie doll wanna-be and I love her for it.
Tilda in Haider Ackerman. She had amazing cuff bracelets on too.
Sofia Vergara in Vera Wang was perfection!
Okay lets talk turkey now. Sorry, but hated quite a few, including Sarah Michelle Gellar, who claimed her 2 year-old chose her tie-dye look dress. Time to get a new stylist, mom. The pony-tail was not attractive either. Angelina Jolie, you just confirmed my suspicions that you are part vampire with that horrid monster movie dress. Scary. Claire Danes' dress was just plain unattractive and it also did not fit her in the chest, where she needed some cover and support. Kelly Osborne's purple grey hair really got all the attention for her. She has a nice shape now, but the dress has ugly shoulders and another ill-fitted top. Don't these ladies have help with their under garments? I'm talking the right bra here. It's not a rubiks cube.
Umm, no.
Scary Angelina Jolie in Versace.
Love Michelle Williams, but this looks frumpy.
Adore Elizabeth McGovern, but not this dress or maybe she needs a bra?
Claire Danes in not pretty J. Mendel. Hate the hair and makeup.
Sarah-Michelle Gellar
Madonna. Had to include this because I am sick of her biceps, okay? Just ugly at her age. Alright, already we know you workout too much. I like the top, but it was too small and let's not even talk about her cheek implants!
You will probably see the same celebrity photos all over. Here's a few that I really liked that may have not gotten a mention!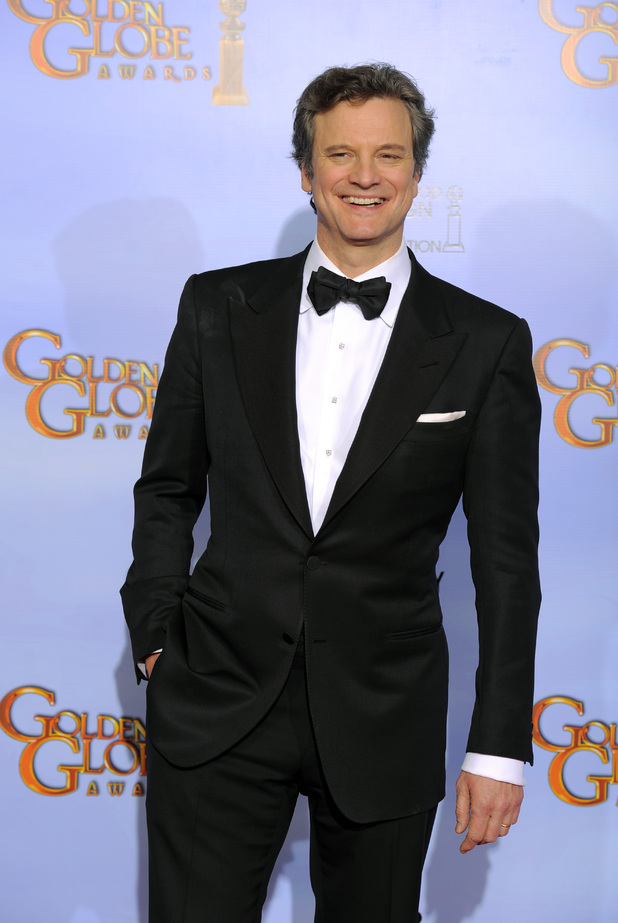 Dreamy Colin Firth. Had to add him. Why? Because it's my blog. 🙂
Zooey Deschanel in Prada
Livia Firth (Colin's wife), sigh, in sustainable Armani.
Heidi Klum in Calvin Klein
Helen Mirren, 66 and still looked better than most!
Diane Lane in Reem Acra. Un-botoxed and lovely.
Julie Bowen in a pretty almost Mad Men inspired look.