Gwyneth Paltrow in Tom Ford. Her simple hair, dress and makeup were beyond pretty.
Is it just me, or were the Academy Awards just boring tonight? I think part of the blame has to rest on the fact that very few good movies were released last year. It seemed like they were hurting for real stars tonight. I mean, why is Jennifer Lopez a presenter and in the front row? This isn't the Grammy Awards!
No offense to Jennifer, but I can think of a lot of actors I'd rather see.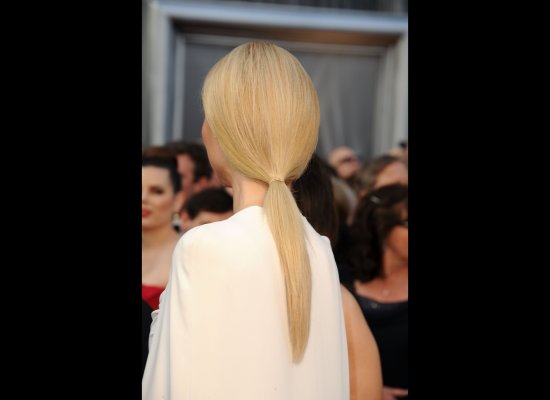 Gwyneth's pony.
Well, on to the fashion. My favorites were Michelle Williams and her dark tangerine dress, and Gwyneth Paltrow's Tom Ford getup with cape. Penelope Cruz was beautiful too.
A few of the highlights for you. First, some ugly I'm afraid. Not loving..
Sandra Bullock's dress. The top was baggy. Also, her severe pony just showcased her botox and fillers. She really would look younger without it all.
Sandra. This dress was prettier from the back, boring in front.
Has Angelina Jolie never worn a dress with a slit before?
You don't need to stick your leg out like Wonder Woman all night.
Viola Davis. I don't like her new lighter hair with the green, nor the green eyeshadow.
Now a bit of good. I'm loving the white on everyone!
Shailene Woodley in Valentino. People said this was too old for her,
but it was a gorgeous dress.
Octavia Spencer was perfect- the hair, dress, earrings.
Rooney Mara. I liked her gauzy dress for a young woman.
She was sans accessories and is a bit of a snot in interviews.
Now a bit of color..
Presenter Louise Roe looked very Downton Abby.
I liked this unique look and her hair.
Penelope Cruz's hair and makeup was so pretty.
Melissa McCarthy -love this girl. She looked so pretty in this color too.
Jessica Chastain. Like the colors on her, but not sure about the dress.
It was ill-fitting and cut into her.
Meryl looked great I thought, not old or frumpy.
The gold was great on her skin and hair.
Stacey Keibler lovely in gold. I'm not loving this side swept hair many ladies had.
It looks strange and bit artificial.
Michelle Williams was just darling in orange-red Louis Vuitton.
Tina Fey looked great in this peplum style blue gown and
a pretty bun in her hair.
Kelly Osborne needs to lose the lavender hair.
Jane Seymour in red. Always love Jane.
Natalie Portman in Dior is perfect!
Now for some more bad..
Berenice Bejo, a bit frumpy. Not loving her hair and she's a beautiful girl.
Penelope Ann Miller. Something about this is making her look old.
The hair is very scary.
Young Anna Faris looks like a 50 year old in this dress and hair.
And good..
Rose Byrne, on the other hand, looked chic in black sequins and almost the same hairdo.
Okay tell me everything! What did you think? I dying to know what you all thought about tonight!
Please comment!
Kim:)