Slim Keith was born Nancy Gross in the agricultural town of Salinas, but would one day be hailed as the original California girl and the inspiration for movie and novel characters. Growing up in Pacific Grove, she left Catholic high school early and headed out alone in a cute yellow roadster, to the California desert's Furnace Creek Inn to widen her experience. There she befriended movie star William Powell, and became part of his Hollywood circle. Through her connections, love of fun and people, she became close friends with William Randolf Hearst and girlfriend Marion Davies and was their frequent guest at Hearst Castle. She later became the toast of Hollywood, New York and London with marriages to Hollywood director Howard Hawks, Broadway producer Leland Hayward and later an Englishman, Sir Kenneth Keith. The girl who grew up near Cannery Row with humble origins and an abusive father, had a confidence and a zest for life. Along with her enthusiasm and humor was her very original, natural and clean-scrubbed California style which made men crazy for her.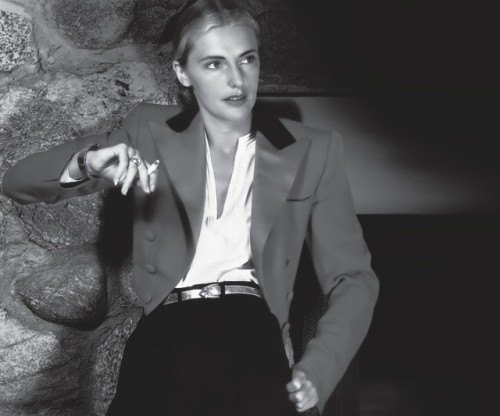 Harper's Bazaar
With first husband Howard Hawks.
Her look was sexy and outdoorsy, chic and athletic, which is what made her unique in a Hollywood era in which snoods, pompadours and frills were the norm. As a result she was dubbed the first "California Girl." Slim believed in having what she called a "house uniform" by day. She favored khakis, tailored shirts, trousers and jackets, soft moccasin-like loafers and thick angora socks she knitted herself.
"
| | |
| --- | --- |
| — | Annette Tapert writing about Slim Keith in "A Salute to Women in Uniform" for the WSJ |
Hunting with pal Ernest Hemingway in Sun Valley 1941.
Robert Capa/International Center of Photography/Magnum Photos
In her memoir she described her style in her own words: 
"In my day, different meant not having your hair done in a pompadour and adorning it with a snood, or not trying to hide your intelligence behind a sea of frills. I somehow knew there was a glut in that market. I opted for a scrubbed-clean, polished look. I thought it was more important to have an intelligence that showed, a humor that never failed, and a healthy interest in men."
Slim actually found Lauren (then Betty) Bacall in a Bazaar magazine ad and picked her as Bogart's co-star in husband Howard Hawk's, To Have and Have Not. Bacall even wore Slim's clothes in the movie and used Slim's sayings, including the famous, "You know how to whistle, don't you?"
Lauren and Slim later became long time friends and you can see the influence of Slim in Bacall's style.
With Gary Cooper in Sun Valley.
Watering artichokes in her California garden.
She graced the cover of Bazaar at age 22 and was the first private citizen to win the Neiman Marcus fashion award for inspiring others with her style.


Receiving the Neiman Marcus Fashion Award 1946.
With Hemingway her ardent admirer.
With the love of her life Leland Howard on their wedding day.
Posing with daughter Kitty Hawks, now a famous decorator.
Slim with Diana Vreeland and her husband Reed.

Slim's memoir with its tales of her glamorous and globe-trotting life.  Her close friends ran the gamut from Hemingway to Truman Capote and Babe Paley. It's one of the most loved books in my library. Published in 1990, I've had it about that long, but you can still find it. I just couldn't put down this tale of how she spun a charmed life for herself with her moxie and great taste. Wonderful images too.

I loved sharing this story of an original California girl.

Photos unless noted from the book, Slim, by Slim Keith.